Ibérica Restaurant - Meal for four (up to the value of £200)
Ibérica Restaurant is located on the corner of St Vincent Street and Hope Street, in what used to be a Royal Bank of Scotland branch.
Enjoy a full meal, such as paella alongside our signature tapas, or just nibble while you have a glass of wine by our stunning bar.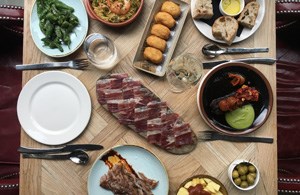 Cocktail lovers – don't miss one of G&Ts made with Spanish produced gin.
Relax with friends over some tapas, have a romantic meal or a corporate meeting at our private room – always in an authentic Spanish style!
140 St Vincent Street, Glasgow G2 5LA