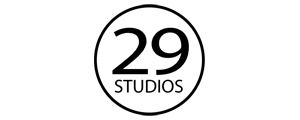 At 29studios we make intelligent video, spending our time being creative, developing only the best ideas and making videos that perform.
We work with clients on a tailored package basis helping you build your video strategy & content starting from £1,500 per month.
The first thing we will always ask is;
What do you want your audience to feel:
 Delight?
Surprise?
Pride?
Connection?
Understanding?
Then we begin to create around this feeling.
We are many things to many clients. To some, we are the video guys; to some, we are designers; to others, we are Pirates; but whichever we are to you, we will guide you.
We have an extensive and diverse portfolio across multiple industry sectors.
Once the content is produced, we help you distribute your video content via the best video platforms.
We help you analyse the performance to give you true analytical data, helping you convert video views into business sales.

Only then do we sign our work. MADE IN 29STUDIOS.COM
For further information on 29studios, visit: www.29studios.com