Document Data Group - here is our New Year's Resolution … what's yours? ...
01 Feb 2018
Document Data Group joined the Glasgow Chamber of Commerce in the Summer of 2017 and throughout the past 6 months we have attended many Chamber events and thoroughly enjoyed getting to know some of our fellow members.
However, with over 1000 members in total we know we haven't even scraped the surface yet and therefore our New Year's Resolution is to meet as many of you as we can, understand your business and determine if there are ways we could add value to each other.
So our New Year offering to you ...
We would like to offer our Business Process Audit FREE OF CHARGE to you all, but lets start with an explanation as to why we can help………..
A company's gross profit is affected by 3 main areas:
Sale
Cost of product/service
Administration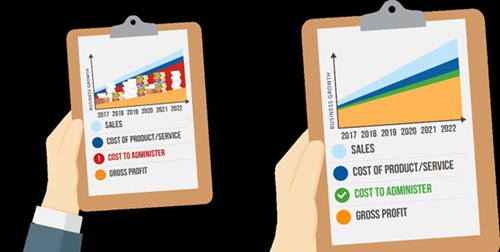 As shown in the diagram on the left, the majority of companies will accept that administration costs increase as turnover rises.  
At Document Data Group we challenge this theory. 
Book a Free Business Process Audit with us today and we will show you how to manage administration costs as your business grows. As illustrated in the right-hand graph maintaining administration costs at the current level will ultimately increase your gross profit.
What have you got to lose? For an hour of your time we may be able to radically improve your business processes.
Book your Audit today by following the link: http://documentdatagroup.com/contact-business-process-audit/