Royal Bank of Scotland PMI® - Private sector business activity rises at quickest pace since August 2014
09 Jul 2018
According to the June Royal Bank of Scotland PMI®, Scottish private sector output rose at a strong pace at the end of the second quarter. Inflows of new work increased at the fastest pace in almost four years, prompting firms to expand employment markedly. Nonetheless, backlogs of work were accumulated for the first time in three-and-a-half years despite the larger headcount across the Scottish private sector. Increased labour costs were reported to have intensified cost pressures. That said, output prices were raised to a softer degree.
The seasonally adjusted headline Royal Bank of Scotland PMI increased to 54.5 in June, from 53.7 in May, to signal the strongest expansion in Scottish private sector output since August 2014. Furthermore, growth across both the manufacturing and service sectors accelerated.
Panellists linked the upturn in business activity to improved demand conditions. New business increased solidly during June, with the pace of growth quickening to a 47-month high. Increased new sales to both new and existing clients were reported by firms. That said, June's increase was weaker than that seen for the UK as a whole for the first time since March.
Strong demand pressures impacted operating capacity during June, as signalled by the first rise in backlogs of work since December 2014. Although the rate of accumulation was only mild, it was sharper than the UK average. The overall rise in outstanding business was driven by the service sector, with goods producers observing a sixteenth successive monthly decline.
In an effort to boost output capabilities, employment was expanded to the greatest degree in 52 months during June. In fact, the rate of job creation noticeably outpaced that for the UK as a whole.
Selling charges were increased for a twenty-third straight month in June, with inflation remaining broad-based across both the services and goods-producing sectors. That said, the rate of increase eased to a five-month low amid reports by some panellists that competition had intensified.
Meanwhile, input prices increased steeply and to the greatest extent in 18 months, indicating profit margin erosion across the Scottish private sector.
An optimistic outlook towards output was sustained in the latest survey period. The level of positive sentiment was the strongest since January. Projections of improved demand and planned new marketing campaigns were linked to the upturn in business confidence.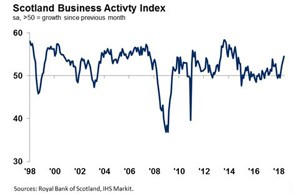 Malcolm Buchanan, Chair, Scotland Board, Royal Bank of Scotland, commented: "Private sector output growth continued to gather momentum as the second quarter ended, with the pace of expansion quickening for the third straight survey to reach a 46-month high." 
"Indeed, operating conditions remain robust, with strong new order inflows encouraging businesses to hire extra staff to the greatest extent in almost four-and-a-half years. At the same time, panellists indicated that higher employment had contributed to another month of sharp input cost inflation, adding strain to profit margins."