Inspiring City Award 2018 Winners & Reaction
07 Sep 2018
BUSINESS leaders and individuals who are helping Glasgow flourish have been recognised in this year's Inspiring City Awards.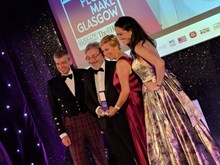 More than 400 of the most inspirational people in Glasgow gathered at the Glasgow Marriott Hotel yesterday evening for a gala awards ceremony.
The awards, organised by The Herald and Glasgow Chamber of Commerce, in association with award-winning city brand PEOPLE MAKE GLASGOW, had no less
than 14 partners. These include Anderson Strathern, Developing The Young Workforce Glasgow and Glasgow Airport, Glasgow Caledonian University – Glasgow
School for Business and Society, Glasgow Fort, Glasgow Welcomes, Glasgow Taxis, Hacking and Paterson Management Services, King's Theatre & Theatre Royal, NHS Greater Glasgow and Clyde, Ross Wilson Public Relations, Sir Robert McAlpine and Whyte & Mackay.

The PEOPLE MAKE GLASGOW award was presented to Clare Cannon, who has made it her mission to give something back to the Prince and Princess of Wales Hospice, which looked after her mother before she passed away. Councillor Susan Aitken, Leader of Glasgow City Council, said: "This year's Inspiring City Awards showed, once again, that Glasgow is creative, innovative and a city that cares." Alison McRae, Senior Director, Glasgow Cham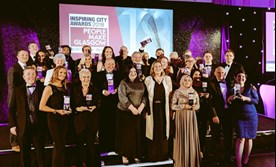 ber of Commerce, said the event was "one of the highlights of the awards calendar".
Developing The Young Workforce Glasgow supported the Industry and Young People Innovation Award, which was given to Tennents Training Academy & UTD Sports. The Art and Culture Award, supported by Sir Robert McAlpine, went to the Tron Theatre. Mark Gibson, Regional Managing Director, Sir Robert McAlpine, said: "Congratulations to all the very deserving winners." This year the Environmental Award, supported by Anderson Strathern, was presented to Friends of Glasgow's Local Nature Reserves. Neil Amner, Director at Anderson Strathern and Immediate Past President of Glasgow Chamber of Commerce, said: "The Inspiring City Awards continues to put the talented people of Glasgow at the forefront."

Our new category for 2018 was the Young Persons Award category, supported by Glasgow Fort, which was awarded to Asma Mohammed. Phillip Goodman, Glasgow Fort Centre Director, said: "Young people are the future of our great city."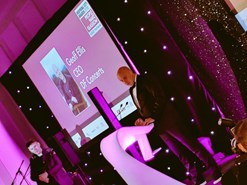 Our Glasgow Welcomes Service Champion Award was awarded to Glasgow Taxis. Craig Martin, Head of HR, Glasgow Airport, said: "It's been fantastic to be part of this showpiece recognition event for the city for a second year." David Doran, Partner of Hacking and Paterson Management Services, said: "All of us at Hacking and Paterson Management Services were once again pleased to be part of the Inspiring City Awards."

Glasgow Tigers Speedway walked away as the winners of the Legacy Award and was renowned as one of the most
exciting events in Glasgow. Supporting the Outstanding Contribution Award, Ross Wilson, of Ross Wilson Public Relations, said: "The event was a truly memorable occasion and for so many participants, a night to remember." This category was awarded to Dagmawi Belay, with a commendation also being awarded to Chitresh
Sharma.
INSPIRING CITY AWARDS WINNERS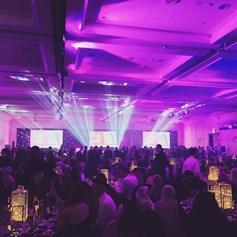 Art and Culture Award
Supported by Sir Robert McAlpine
• Tron Theatre – WINNER

Carer(s) of the Year Award
Supported by NHS Greater Glasgow and Clyde
• Flora Kerr – WINNER

Best Corporate Social Responsibility Award
Supported by GCU Glasgow School
for Business and Society
• Allied Vehicles – WINNER

Education Award
Supported by Glasgow Taxis
• Centre for Financial Regulation and Innovation (CeFRI), Department of Accounting and
Finance, Strathclyde Business School – WINNER
• Impact Arts – Commendation
Environmental Award
Supported by Anderson Strathern
• Friends of Glasgow's Local Nature Reserves – WINNER
Innovation in Business Award
Supported by King's Theatre & Theatre Royal
• Sticky Heelz – WINNER
• LINIAN Supply Co Ltd - Commendation
Outstanding contribution by a Young Business Leader Award
Supported by Ross Wilson Public Relations
• Dagmawi Belay – WINNER
• Chitresh Sharma – Commendation
Outstanding contribution by a Business Leader Award
Supported by Whyte & Mackay
• Andrew Duncan – WINNER
Sport Award
• Jonathan Willcox – WINNER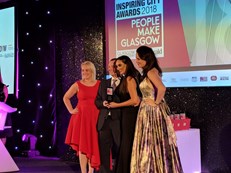 The PEOPLE MAKE GLASGOW Award
Supported by PEOPLE MAKE GLASGOW
• Clare Cannon – WINNER
Industry & Young People Innovation Award
Supported by Developing the Young Workforce Glasgow
• Tennents Training Academy & UTD Sports – WINNER
Legacy Award
Supported by Hacking & Paterson Management Services
• Glasgow Tigers Speedway – WINNER
Glasgow Welcomes Service Champion
Supported by Glasgow Welcomes
• Glasgow Taxis – WINNER
Young Person Award
Supported by Glasgow Fort
• Asma Mohammed – WINNER
Lifetime Achievement
Supported by Glasgow Airport
• Dr Adele Patrick
Credit @ Herald Scotland. Used with permission
Thank you to all the Inspiring City Award 2018 Sponsors and Partners