My journey so far...
06 Jan 2020
By Robert Menzies, Membership Executive, Glasgow Chamber of Commerce
I thought it would be a good idea to reflect on my experience so far working at Glasgow Chamber of Commerce and why I love what I do. It's been a quick few months and I can't believe it's been almost three months already (time flies when you're having fun). When I started on the 1st of October just when the Glasgow Business Awards 2019 fast approaching, two days in, I knew it would be a busy week and with a baby due at the end of the month. Everyone was extremely welcoming and I could see I was joining a group that looks after each other, with a family feel which is what I like. It made me determined to work hard to become an asset to the team and bring something to the table. It was great to see all the hard work that goes on behind the scenes in running such an event and I wanted to get involved as much as possible and help anyway I could. This allowed me to fit in quickly and get to know my team mates (at their most stressed time) because I worked closely to assist with any jobs needing done for setting up, probably got in the way most of the time. It was my first time attending the GBA's never mind helping set everything up. It was a very inspiring night seeing great businesses throughout the city being recognised for their hard work throughout the year. It was great to meet new members and non-members and gave me a taste of the scale of companies and sectors we work with. I felt very proud of my city. This was very exciting to me as I was born in Glasgow so feel very passionate about the city and helping companies of all sizes grow through membership and anyway I can. Well that was just my first week and it was a great learning curve straight away. Attended some great events where I learned a lot about different members and was inspired by our Glasgow Talks speakers.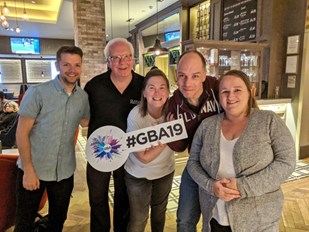 Suddenly the month went past in a flash and I had my first new-born baby on the 1st of November which then gave me a new set of challenges. New role and new baby, was I trying to test myself to the limits? This great news gave me even extra drive and pushed me on even more in my new role. I brought Joey into the office to meet the team and he quickly became more popular than me, which I won't live down.
Since becoming Membership Executive I've been fortunate enough to meet a lot of different people from different business and sectors at different stages of their journey, from sole trader to huge businesses with hundreds of employees. This is what I really love about the role is the diversity and that the membership we offer to join allows different benefits for every size of business. When I talk about Glasgow Chamber of Commerce, I always describe it as the central hub of Glasgow for all businesses. We are based in the centre of the city in George Square and are the hub for joining dots for your business and others to connect to do business together and giving the opportunities for growth using the benefits of membership. Whether you're trying to build connections through events, going global or need that introduction to key contacts through our membership directory, there really is great variety of offerings for
all sizes. The Chamber is historic and I am doing my best to do it justice. When I meet a new prospect or existing member then I always aim to bring some value to the conversation so that they always leave feeling it was worthwhile. It's important for our members to utilise the membership and that's one of the reasons I enjoy the role so much, being able to meet new people, help them grow and build strong long term relationships, based on the trust that I am trying to do all I can to help them the best I can. I continue to learn more about the city and about the chamber and the history that goes along with it.
In summary it's been an exciting few months and I am excited for next year to work alongside the team to help deliver a great offering for members and be a part of the growth of Glasgow. I look forward to meeting existing members at events soon and all non-members and to show you all what's in store for 2020. Thanks to our members and to everyone I have met so far on this journey.
If you're an existing member needing help or looking for information on joining then get in touch - by email robert.menzies@glasgowchamberofcommerce.com or through LinkedIn. Always happy to chat.
Thanks, Robert