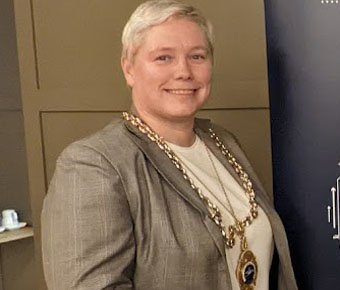 Gillian Docherty is Chief Commercial Officer at the University of Strathclyde. Gillian has responsibility for Innovation & Industry Engagement, Research & Knowledge Exchange Services, Campus Support and Marketing & Development. As a member of the Executive Team, she works across the institution to drive forward the University's sector-leading activities with industry and support Scotland and the UK's economic recovery from the global pandemic. 
As a leading international technological University, we are extremely proud of our network of partners across business and industry in the UK and globally. Our approach to collaboration is accelerating the development of new technologies, helping companies compete internationally, informing public policy and supporting the economy. 
Prior to joining the University in 2022, Gillian was the Chief Executive of The Data Lab, Scotland's innovation centre for Data Science and Artificial Intelligence with a mission to help Scotland maximise value from data and lead the world to a data-powered future. 
Gillian was appointed an OBE in the Queen's Birthday Honours 2019 for Services to Information Technology and Business. 
Gillian was appointed Chair of Scotland's AI Alliance, created to drive forward the recommendations in the AI Strategy for Scotland. 
Formerly of IBM, Gillian is a TED speaker and was named Digital Leader 2018 for the UK, she received an Outstanding Achievement Award at Scotland's Women in Technology Awards in 2019. 
Gillian was named CEO of the year at the Digital Technology Awards 2017 and was also in the UK's top ten most influential people in data according to DataIQ.  
Gillian is President of Glasgow Chamber of Commerce, a trustee of Beyonder Involve Charity and an Industry advisor to several Startups. 
Gillian has a degree in Computing Science from the University of Glasgow, an Honorary Doctorate from Robert Gordon University and is married with a daughter.