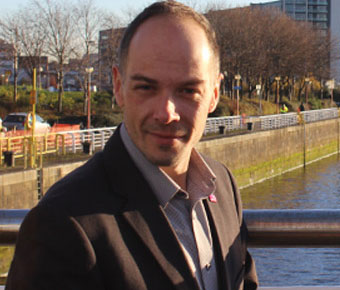 Alan joined Glasgow Chamber of Commerce in 2005. His role as Events and Professional Development Manager involves the planning, marketing and delivery of the wide and varied events the Chamber offers. Highlights include the development and delivery of Inspiring City Awards, How To ... Workshops, Glasgow Talks, Think Digtal Scotland and Made in Glasgow.
The highlight of his Chamber career was leading the Chamber team's event delivery during the Glasgow 2014 Commonwealth games and our support of the Glasgow Business Embassy and Scotland House. 
Educated at University of Stirling, he studied initially for his BA (Hons) in Marketing and Politics (2001) before moving on to study for an MSc in Entrepreneurial Studies and Business Growth (2003). Afterwards, Alan worked with the Methodist Church in London, before joining Marks and Spencer as a graduate. In 2005 the opportunity came to join Glasgow Chamber of Commerce.
Alan lives in Balloch, Loch Lomond and his other interests include walking, drinking real ales and having a good debate about politics. 
Other interests:
Board Member of Scottish Youth Dance - YDance
Contact
Tel: 0141 204 8323
Email: alan.busby@glasgowchamberofcommerce.com
LinkedIn: Alan Busby
Twitter: @alanbusby9 @GlaChamberEvent