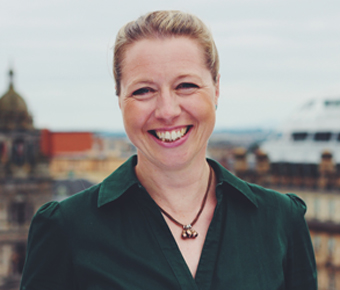 As Senior Project Advisor and founding member of Circular Glasgow, a Glasgow Chamber of Commerce initiative, Rebecca champions and facilitates a movement for change around circular economy principles in the urban economy; with the aim of informing and engaging change-makers. Her focus is on connecting businesses, public sector and local government with one another, strengthening the local SME community, and capturing new ideas that will accelerate their transition to new circular models.    
Rebecca believes the role of storing telling and sharing practical applications of circular models will be crucial in supporting Glasgow's ambition of positioning itself as a leading circular city.  
Rebecca has over 19 years experience of working in media, public relations, marketing, events and business development.  
She started her career working for the Daily Record and Sunday Mail before moving to The Herald, Sunday Herald and Evening Times, subsequently heading up an award-winning marketing department as Head of Brand Marketing and Promotions.  
In 2010, Rebecca took on the role of Marketing and Commercial Manager for Scottish Racing, where she successfully transformed business planning and budgeting processes, before starting her own consultancy – Pitch Perfect Consulting Ltd.  Offering business development, strategic planning, project management and marketing consultancy, she works in partnership with a diverse range of industry sectors and clients, including Glasgow Chamber of Commerce.  
Away from work, she makes the most of living in Scotland and having completed all 282 Munros in 2018 is now busy working her way through the Lake District's Wainwrights.  Other loves include biking long-distance trails and heading off on Campervan adventures.