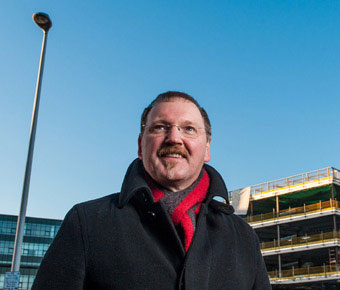 Stuart Patrick CBE is Chief Executive of Glasgow Chamber of Commerce, committed to increasing trading opportunities for Chamber members and delivering a strong business influence on the growth of the Glasgow city region.
Stuart joined the Chamber in 2009 and has worked with the Chamber's team, Board and Governing Council to build the Chamber's policy voice, evolve member services and support Glasgow in the delivery of an ambitious economic strategy.  International trade, transport investment, city centre growth, key industry strategies and youth employment are all important issues for the Chamber.  

Stuart has spent over 25 years in urban economic development including 17 years at Scottish Enterprise where he focused on the economic transformation of Glasgow ultimately leading Scottish Enterprise Glasgow and becoming Senior Commercial Director for Scottish Enterprise itself. At the beginning of his career Stuart trained with Ernst & Young where he qualified as a Chartered Accountant and he has an MBA from Strathclyde University.  He took his first degree at Glasgow University.
Stuart takes an active interest in Glasgow's economy and is a member of the Glasgow Economic Leadership Board, the Sustainable Glasgow Board and the Glasgow City Centre Strategy Board. He co-chairs the Glasgow Employer Board. He is also chair of Glasgow City of Science and Innovation. 
Stuart has a number of personal interests around Glasgow including the chairmanship of the Wise Group and directorships of Glasgow Science Centre, Scottish Opera, Clyde Gateway URC and the Cottier Project.  He is a board member of City of Glasgow College.